Happy Valley Gutter Cleaning
When rain gutters and downspouts do not function properly, rainwater flows uncontrollably. It can lead to one of the biggest threats to your Happy Valley property: excessive exposure to water. When this happens, the repair work involved to rectify the damage can be financially crippling.
The best way to save your property from a potential nightmare is regular gutter cleaning and proper maintenance by Premier Property Maintenance.
What Clogs Your Gutter?
Decomposing leaves, when combined with dust and water, becomes one soggy, muddy mess. Adding to the debris are pine needles, twigs, and branches. Moisture present in your gutters gives rise to weeds which flourish when left unattended. Gutter clogs are an outcome of these particles trapped inside this drainage mechanism intended to preserve your Happy Valley property. If you are keen to protect your existing gutter system from ruin and undue strain, follow up with Premier Property Maintenance for all your gutter cleaning and we will get you on our schedule. Organic and inorganic elements can clog your gutters and blocking the water's natural flow. Some of the most common items you are likely to spot stuck in your gutters include: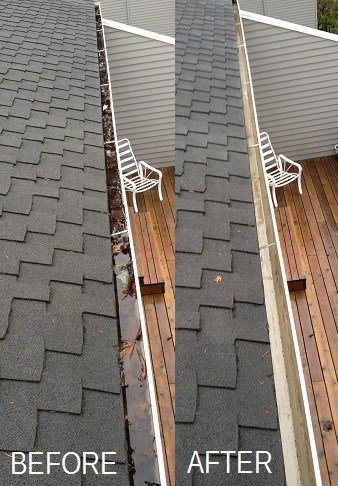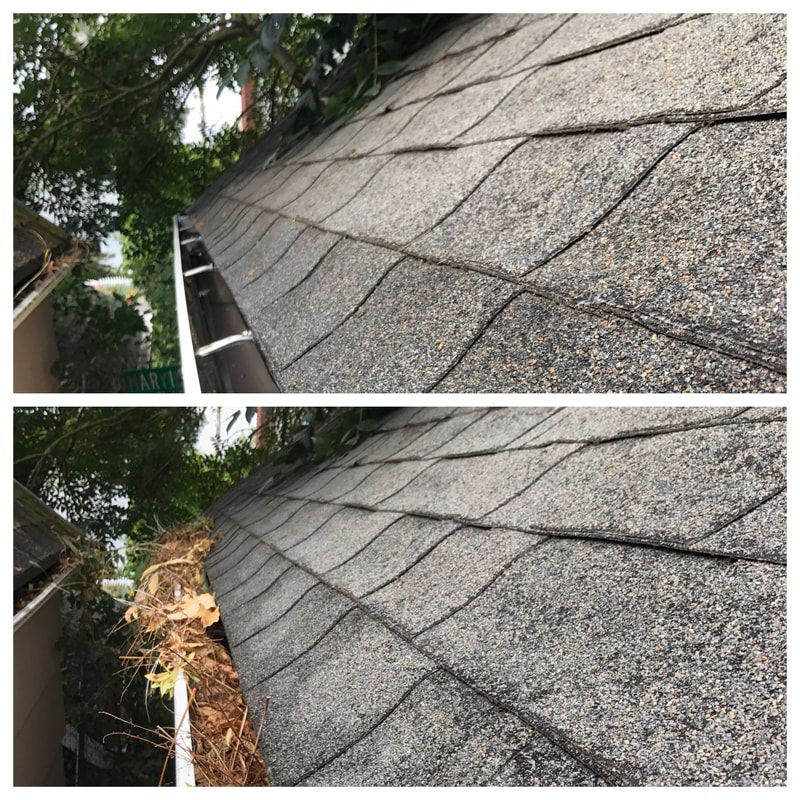 Silt Build-Up – Tiny particles of dirt, when left untouched for long spells, develop into a layer of soil. This silt sits stubbornly on the base of your gutters and proves harmful when allowed to build-up. It gets heavy quickly and weighs down your gutters to a point where they may sag and become difficult to drain. As the water flows out, some silt will improperly drain out from roof tracts and sagging gutters.
Never Ending Leaves – As plants and trees shed their leaves that cozily settle into your gutters, they entangle with all the debris. When left undisturbed for extended durations, the moisture-laden leaves become a huge mess. You end up with a clogged and utterly ineffective system that needs intensive gutter cleaning.
Green Algae – Layers of silt on the base of your gutter are like a breeding ground for organic matter. Having a roof with greenery sprouting on it is very unhealthy for your home. Green algae, moss, spores, and other microorganisms can cause damage to your roof.
Animal Nests – Creatures looking to build their nests find gutters most inviting. Squirrels, birds, and mice are attracted to gutters that contain the material needed to build their nests. As these small animals proceed with their nest-building mission, they present you with clogged gutters.
What Does Professional Gutter Cleaning Include?
Inspection of your gutter hangers, extensions, and downspouts is part of the maintenance routine. Whether you have gutter guards, screens, or any other protective device placed on top, you will still need gutter cleaning services performed to remove the buildup of dirt, pollen and granules from your roof. The latter proves the most effective in the long run, allowing your gutters to function smoothly year-round.
Call Premier Property Maintenance today in Happy Valley, to handle your all your gutter cleaning chores. We are experienced in cleaning all kinds of gutters.