Happy Valley Roof Washing
Roof Washing Happy Valley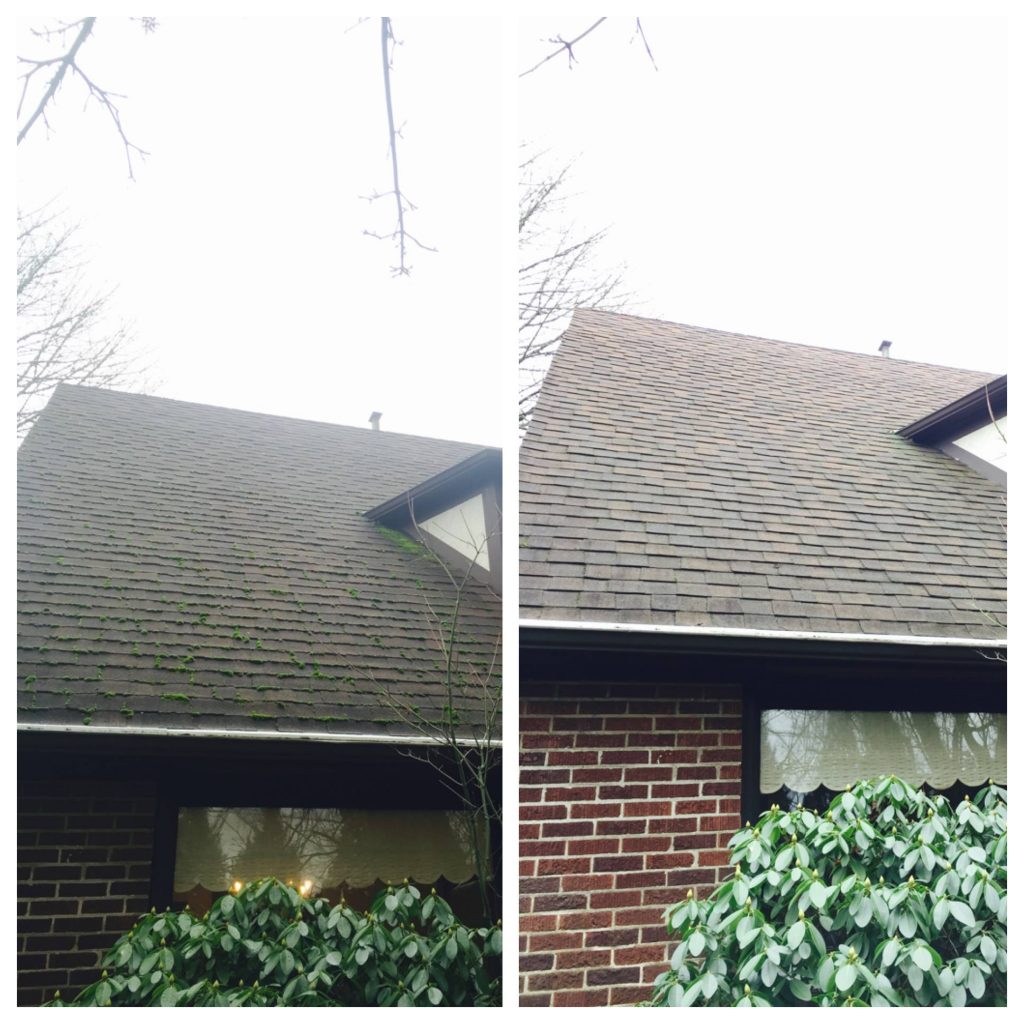 If you're considering having your roof cleaned professionally, you've come to the right place. We proudly serve Happy Valley and the surrounding areas. Although a DIY approach may seem feasible, there are some serious risks involved, especially if you've never used a pressure washer. If you hire professionals like Premier Property Maintenance you can rest assured that you're receiving the best roof cleaning service in Happy Valley. With our powerful tools and years of experience, we can take care of most roof cleaning projects from the ground.
Your roof needs proper care and maintenance to last. A roof with poor maintenance only needs few years to start showing dark steaks. And when dark streaks start forming, your roof will start looking like a proper home for lichen, moss, algae and other microorganisms. Dirt is ugly of course, but when you've got moss growing on your shingles, you've got a much bigger problem. Moss retains moisture very well, and given enough time, moss will push up your shingles, allowing moisture to reach your home. If you live in a shady area of Happy Valley, you may require more frequent cleanings.
But if you hire a professional roof washing company like Premier Property Maintenance, there are many benefits. Our specially formulated blend of detergents will wipe out all those pesky plants that like to grow on your shingles. Let's look at some of the other benefits you may enjoy by hiring us:
• Safety: Safety is our number one priority. Not only do we want to keep our team safe, we want to keep your roof safe. We use powerful machines to help us clean, and a lot of training goes into making sure we know how to operate them safely. If you rent a pressure washer from the hardware store, it may not be powerful enough to reach all the highest spots on your roof, meaning you would have to climb up there. That doesn't seem very safe. You could slip and injure yourself or your roof.
• Prevention of Roof Damage: If you hire a professional, you will place your roof washing project in safe hands. Ensuring water does not get into vents or behind your siding is essential. Without the proper tools, it may be difficult to accomplish this. Completing as much of the project as possible from the ground helps ensure that we won't damage the roof.
• Cost Effective: When hiring a professional roof cleaning company like us, you can be sure that you're spending your hard-earned money wisely. Compare us to the cost of renting a pressure washer (this can be $250 or more per day), then add in the value of your time. It's easy to see why you would want to hire us instead.
• Stress Reduction: Professional roof washing will help reduce or eliminate the stress of wondering whether or not your efforts have been in vain. We know how to get rid of contaminants from your roof. You can be sure about that every time.
At Premier Property Maintenance, we perform both residential and commercial roof washing services in Happy Valley, OR. Give us a call today for a free estimate!