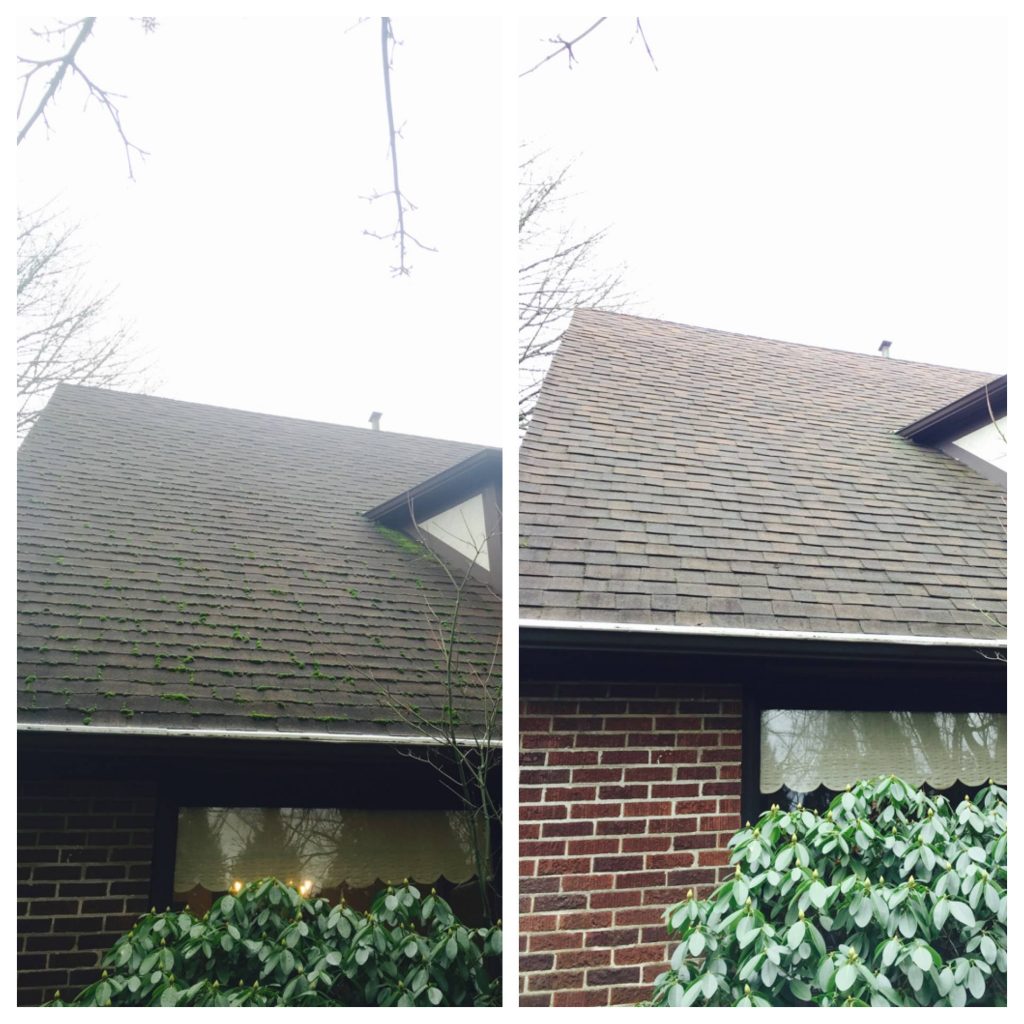 Roof washing can be a very difficult task. Because of the nature of the roofing material, you should not use scrubbing or abrasives as a technique to get the roof clean. The best option is to use mild detergents, and a large volume of water at low pressure to rinse it off. This method can introduce some risks if you are not used to operating the equipment or if you're not used to being on a ladder or roof! It may also take you a lot longer than someone with high quality equipment and training.
Roof washing is not as easy as it may look. You should consider hiring a highly trained professional team to take care of your roof for you. Premier Property Maintenance proudly serves Troutdale and surrounding areas, and we are here to take care of all your roof cleaning needs. Our company offers both residential and commercial services. Here are some reasons why you should consider having your roof cleaned professionally:
Roof Cleaning is an Investment: Your roof plays an essential role in keeping you and the rest of your house safe. If moisture is trapped in algae or moss on your shingles, it can create an environment inviting to mold or critters you do not want on your roof. If you consider the cost of an annual roof washing versus the cost of early replacement, it's easy to see how a simple cleaning can save you in the long run. Premier Property Maintenance in Troutdale can help!
Plants Can Damage Your Roof: Moss, algae, and other organisms can damage your roof. Over time, moss can push shingles up, and attract more dirt and moisture, which in turn attracts more moss. Algae thrives on asphalt shingles with limestone in them. These things can prevent your shingles from drying properly, and this moisture can lead to a slew of problems later, including mold and mildew. This decreases the life of asphalt shingles and the underlayment if the moisture is allowed to reach it.
Different Care for Different Roofs: Speaking of asphalt shingles, not all roofs are the same. You should trust a professional team like ours with many hours of training and experience to ensure that your roof, whatever kind it is, is taken care of and cleaned properly. Older roofs may need more gentle care, and our professionals can adjust our tools to ensure they are not damaged during the cleaning process.
Boosting Curb Appeal: If your roof has moss, streaks, or debris from trees on it, you can instantly boost your curb appeal by having our team come clean your roof for you. If you're looking to sell your home soon, we offer a variety of services designed to boost your curb appeal, not just roof cleaning.
Are you in search of a company that offers more and charges less? Look no further! We have been proudly serving the Troutdale area for years, and we have many five star reviews. Call us today if you'd like to know more about what we do, or if you'd like to schedule a visit. You'll see why Troutdale prefers Premier Property Maintenance.