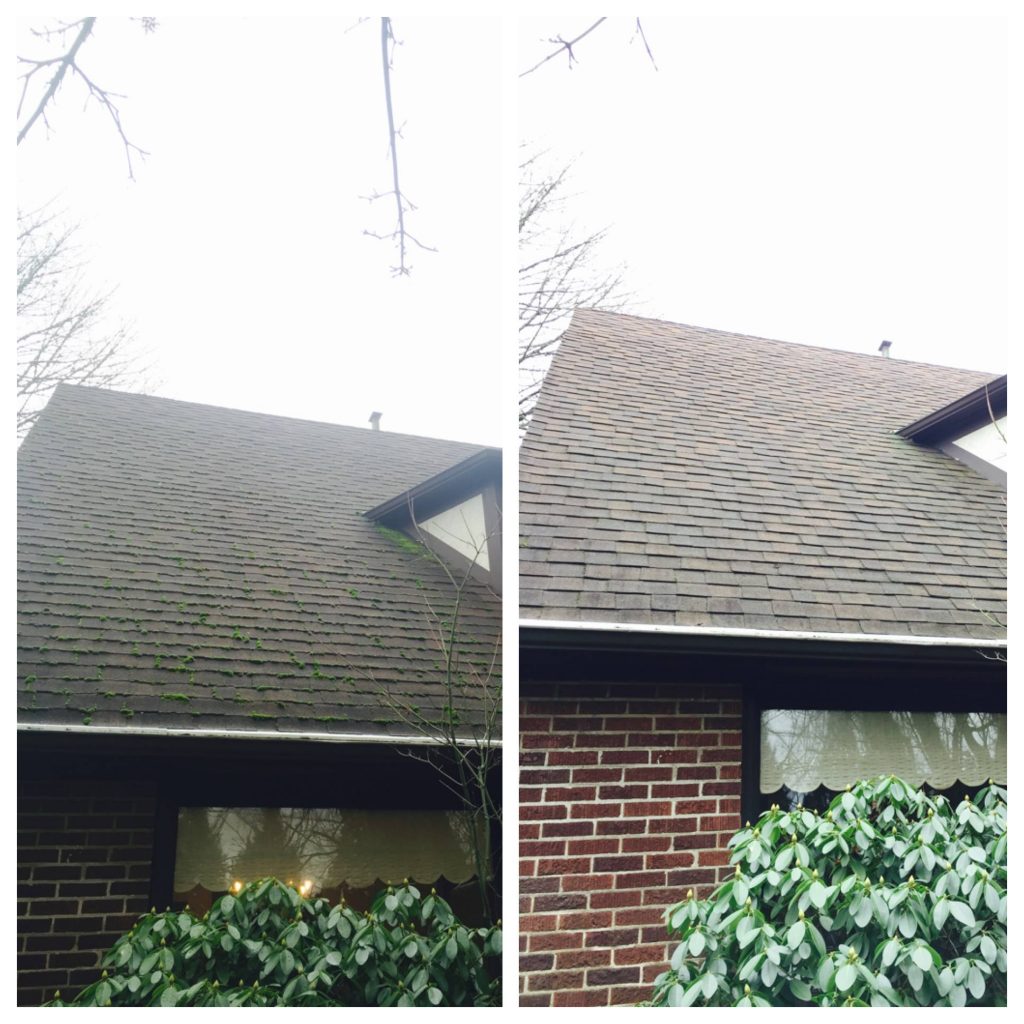 If you asked a hundred homeowners in West Linn what they think of roof cleaning, many may not understand the importance. Those that do understand the importance know that a thorough roof washing from a professional roof cleaning company like Premier Property Maintenance is the only way to get rid of things like black streaks, algae and moss and keep them gone. They know that these organisms can damage your roof over time, reducing its effective lifespan.
If you want a professional roof cleaner who can help make your roof look new again, Premier Property Maintenance in West Linn is the best choice! Our exceptional service is performed by highly trained technicians, and we use high quality tools and detergents to ensure that your roof is cleaned thoroughly and properly the first time.
For those who have never had their roof cleaned before, they may not understand the importance of extending the life of the shingles. They may have tried spraying their roof with a hose, and since that won't really accomplish anything, they assume the only thing available to them is a new roof. Here are some ways a professional roof washing can benefit any homeowner in West Linn:
Roof Cleaning Boosts Curb Appeal: If it has been a long time you have cleaned your roof, you may observe that the buildup of twigs, mold, moss and streaks in the valleys of your roof. The roof is a huge part of your curb appeal, and many times it is (or is supposed to be) one color. Having moss, streaks, or debris up there can really draw the eyes to it, and if it's dirty, it can be a real eyesore. If you hire a professional team like us, we can use our special detergents to break up the dirt and other contaminants on your roof and make it look as clean as possible.
Roof Cleaning Enhances Longevity: Another reason you should have your roof professionally cleaned is for its lifespan. The limestone in asphalt shingles is very appealing to certain types of algae. This can make your roof retain moisture instead of letting it drain into your gutters. Moss can also grow between shingles, which attracts more dirt, and then more moss. This buildup of moss can start raising your shingles up and exposing your roof to moisture.
For Reduced Expenses: Instead of spending money on repairing your roof or replacing it entirely, regular cleanings can extend the life of the roof. You may spend tens of thousands of dollars replacing your roof, when investing in regular roof cleaning services is a tiny fraction of that cost.
Keeping You Safe: If you consider the amount of people who fall from ladders and roofs each year, it is easy to see that something like operating a pressure washer on your roof can only increase the danger of falling. Your typical pressure washer from the hardware store might not be strong enough to reach every part of your roof, and you probably don't have access to the detergents necessary to kill the moss and algae up there. Leave it to the professionals at Premier Property Maintenance in West Linn to handle all of it for you!
If you have questions about our process or if you would like a free estimate for any of our services, please give us a call today. We would love to talk to you about your next project!