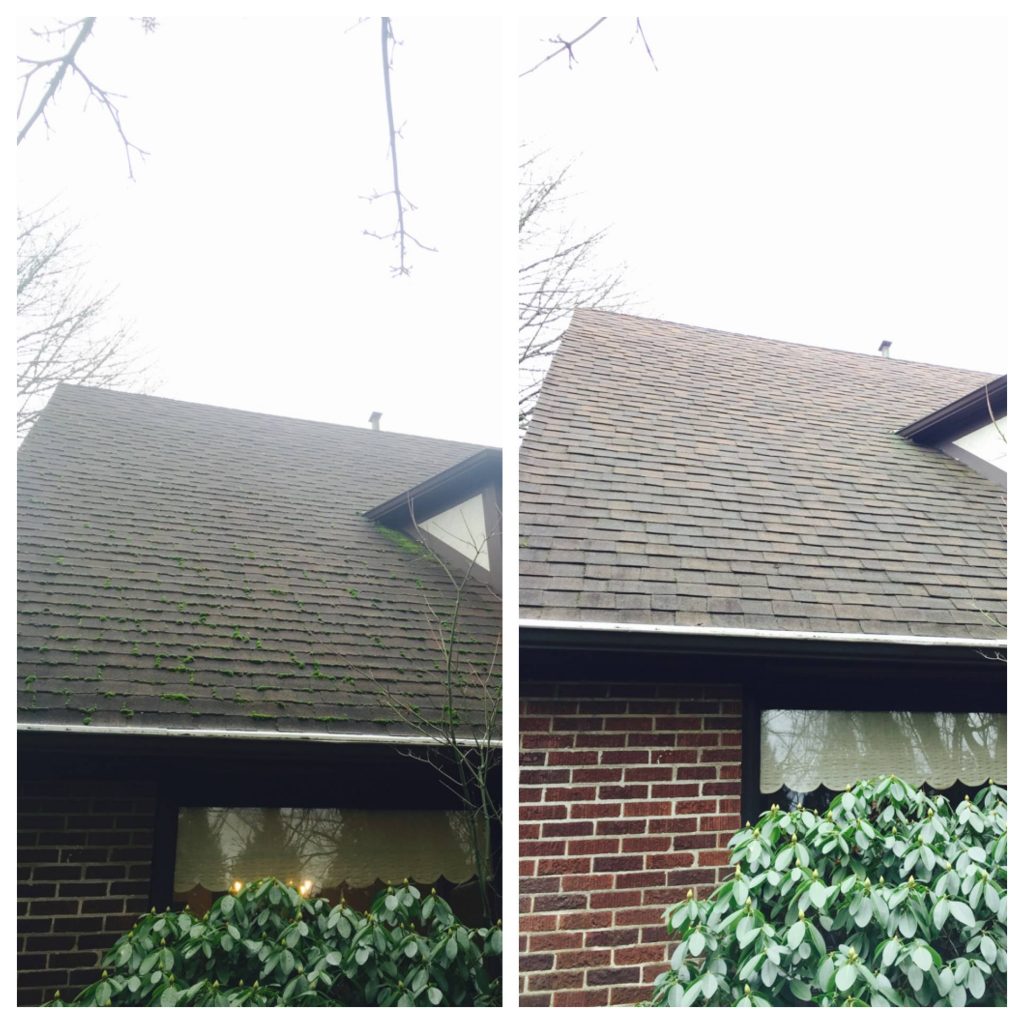 Considering the important role that your roof plays in keeping you and the rest of your house safe from the weather, you should consider hiring only the best when it comes to having your roof cleaned. Someone who specializes in roof cleaning is going to know all the ins and outs of roof cleaning to ensure that it is cleaned thoroughly and safely. Trust a company local to Clackamas, like Premier Property Maintenance.
It is important that your roof is treated with care. A professional roof washing service will have the training and tools to clean your roof without you having to climb around on it. This means having professional grade pressure washers and the detergents required to break down and get rid of all the dirt, moss, algae, and other contaminants that may be up there.
If you want a company that will perform a tip top roof washing, Premier Property Maintenance is the best choice in Clackamas. Why? Premier Property Maintenance has it all – highly trained technicians, the most powerful equipment, and the specially formulated detergents to break down the contaminants on your roof. Here's what you can expect when you hire us:
Experience: We have cleaned many roofs in Clackamas and the surrounding areas. We know what to look for, and we know how to take care of the variety of issues your roof may be facing. Having dealt with it all, we have a competitive advantage over other companies. We know how to adjust our equipment to ensure we can clean your roof without having to walk around on it. We know which cleaning agents to use to deal with all types of situations. With us, you can always be sure that your roof is in the hands of highly trained, licensed professionals. Another key aspect is our training.
Qualified Technicians: Speaking of training, another reason we stand out amongst our peers is our team! We train our technicians to be able to handle anything in the field. Not only that, we organize timely training sessions for all our workers all to bring about an improvement in them. They are the best around!
Better Equipment: Part of why we are able to keep our prices so low is the equipment we use. By using only the best equipment and cleaning agents, we are able to clean roofs quickly and thoroughly. This lets us complete our projects quickly, so we can do more of them. We can then pass our savings on to our customers and stand out amongst the competition.
For us, it is always about customer satisfaction. Everything we do is for our customers. We want to ensure we are the best choice for roof cleaning services in Clackamas. We want our customers to be able to come to us and have peace of mind. If you have any questions about us or what we do, or if you'd like to know more about our roof washing or our other services, give Premier Property Maintenance a call today. We can provide you with a free estimate for any of our services.